Social Club
Washfield Social Club will reopen on Tuesday 18th May 2021, in line with current Covid -19 restrictions.  All residents of the village and visitors (who must be signed in) are welcome.
It was first opened on August 24th 1990 and provides an opportunity for the residents of Washfield and visitors to meet, socialise and, of course, enjoy the fine beers, wine, spirits etc and soft drinks which are available at extremely competitive prices.  There is also the opportunity to play cards, scrabble and other board games and there is a TV which has proved popular during England football tournaments despite our nation's usual brief participation!
The Club is run by an elected committee who all give their time freely as do the bar staff who are all residents of the village who volunteer on a rota basis.  Any resident of Washfield (over 18 years old) is very welcome to join the committee or go on the bar rota.  It is a real opportunity for you to be part of the community and influence the future development of the club.
The Club also organises a number of events throughout the year.  Some of the events from previous years include: scarecrow festival, quizzes, a pumpkin growing competition and evening celebration, a New Year's eve party, skittles competitions, Eurovision fun evening, treasure hunts and BBQs.
Membership of the Club is only £5.00 a year, payable on 1st December, so come along on Tuesday to your Club at the heart of our community.
For further details contact our current chairperson, James Wych.
Washfield Social Club is now on Facebook, follow us there and keep up to date with club events.
Forthcoming Events
For details of all events also see the village notice boards and join the 'Humans of Washfield & Lower Washfield' and Social Club Facebook groups.  
Past Events
Pumpkin Competition Results Nov 2020
1st -Dave Bowden - 40lbs
2nd -Kipper - 38.5lbs
3rd - Dave Bowden - 38lbs
Jean French - 33lbs
Sattie B - 29.5lbs
Becky Wollacott & Victoria Killearn -28.5lbs
Gill Juleff - 21lbs
Michael Kerslake - 19lbs
Eva Armstrong - 18.5lbs
Ann Roberts - 17.5lbs
Angela Bolt - 16.5lbs
Becky Wollacott - 16lbs
Tony Roberts - 9.5lbs
Wych Family - 9lbs
Eliza Albury - 8.5lbs
Saturday 13th July: Tractorfest.
Saturday 6th July: Hanging Basket Contest. 
Saturday 8th June: Car Treasure Hunt.
Monday 6th May: May Day Party on the Green. 
Saturday 23rd February: Family Supper & Rugby.
Saturday 26th January: Scottish Evening.
1st December: Charity frog racing night.  
27th November: AGM.
20th October: Pumpkin Weigh-in.
Results:
1st - Eric Webber - 53.lbs
2nd - Alastair & Rachel - 52.5lbs
3rd - Pete & Paula - 49lbs
Prettiest pumpkin - Bronson & Camilla 
14th July: Tractor Fest. For photos of this event click here.  
16th June: BBQ & scarecrow awards evening.
SCARECROW WINNERS - click here for images of all 2018 scarecrows.
Most Original
1st - Bob the Builder (16) Tanya White
2nd - Bo Peep (19) Els Horsey
3rd - Wee Willie Winnie (10) Jean French
Most Creative
1st - The Owl and the Pussy Cat (29) Eric, Alison and Dan Webber
2nd - Long John Silver (21) Paul and Allison Trout
3rd - Jack and the Beanstalk (7) Tony and Ann Roberts
Most Likely to Scare Crows
1st - The BFG (24) Patrick Taylor Ross
2nd - Cruella De Ville and 101 Dalmations (6) Ann Hancock and Martin Balment
3rd - Rub a Dub Dub (13) Anne Moore
Made by Children
1st - Humpty Dumpty (2) Tilly, Gilbert and Jack Herniman
All 6 in this class gained a certificate.
People's Choice
1st - The Owl and the Pussy Cat
2nd - Cruella De Ville and 101 Dalmations
3rd - Long John Silver.
2nd June: Children's Scarecrow Walk, Cream Teas and Car Treasure Hunt.
Winners of the Car Treasure Hunt were:
1st:  Webbo's team (Webber/Arnold family).
Joint 2nd:  Middlehillers and Wynefreds.
7th May: May Day Party on the Green.
28th October: Pumpkin Weigh-in.
1st - Kipper Heywood 63lbs
2nd - Debs Walton 53lbs
3rd - Dave Bowden 45lbs
£284 was raised for E.L.F.
8th July: Tractor Fest.
1st July: Washfield in Bloom.
Many thanks to all those who entered and a very special thank you to Bill and Angela Bolt for the difficult task of judging!
Best in Show - Enid Harding
Most Imaginative - Hugh Ellis
Most Professional - Anne Moore
Most Fragrant - Tilly Herniman
Most Colourful - Jean French
Highly Commended - Dave and Bet Bowden
Consolation Prize - Marianne and Liam Edwards
Children's Entries:
1st - Lily Woodard
2nd - Tegan Robinson
3rd - Alistair Wych
22nd June: Syrian Evening.
17th June: 'Great Get Together' picnic by the river at Spillifords.
June 3rd Car Treasure Hunt.  Another successful afternoon in the sunshine driving around lanes not often visited and enjoying a cream tea back at the hall!
A £94 profit was made to be split between the Hall and Social Club funds and £55 was raised for the Syrian refugee family by the stalls selling cakes, toys, plants etc.
May Day Party on the Green.  A happy afternoon with Maypole Dancing, Morris Dancers, games and a BBQ.  We were very lucky with the weather - the storms went all round us!  For more information and pictures see our Facebook page.
Saturday 22nd April:  Music, Bangers and Burgers!
Congratulations to this year's prize pumpkin growers.  The results confirmed on weigh-in night on 29th October are:
1st Maurice Balment   117 lbs
2nd Andrew Heard   98 lbs
3rd Chris May   96lbs
Prettiest Pumpkin   Sattie and John Burton.
The successful evening raised £145 for ELF.
There was a fantastic festival of froggy fun and frolics at Washfield village Hall on the evening of Saturday 1st October as Washfield residents enjoyed an evening of highly competitive and entertaining frog races. But there was also a serious purpose to the evening as all proceeds went to two very worthy charities Save the Children and Medicins sans Frontieres (Doctors without Borders).​
After six highly contested heats with frog 'jockeys' cheered on by friends and family we came to the final all winners race. This pitched the six winners  of the heats against each other and after a close run contest Chas Walton was declared champion of champions and awarded a fine Froggy Trophy to adorn his mantelpiece.
Thanks must be given to a very dedicated team who organised such a successful and enjoyable event. And thanks also to our race sponsors, local businesses and residents of Washfield who managed to raise the magnificent sum of £2000 for our two nominated charities. Well done Washfield.
Catch up with the exciting action here.
Washfield's Summer of Sunflower Growing came to a head on Saturday 17th September when the official measuring took place!  The event was marked by a children's Treasure Hunt walk ending at Spillafords where Adam and Frannie hosted a tea party with guided tours of their new house.  A very enjoyable afternoon.
Thanks to everyone who entered.  There were 11 entries for the sunflower competition and it was won by Anne Moore with the great height of 3.60 metres!  Others were
3.03m  Tony and Ann Roberts
2.90m  James Wych
2.72m  Jeanne Jones
2.48m  Bill Bolt
2.17m  Gill Juleff
2.10m  Maggie Parker
2.10m  Hilary Arnold
1.90m  Enid Harding
1.75m  Jean French
1.58m  Kath and Arthur Shenton
Templeton lifts gold at the Washfield Knock-out Olympics, 30th July 2016.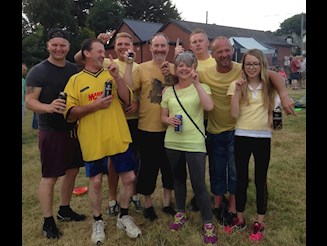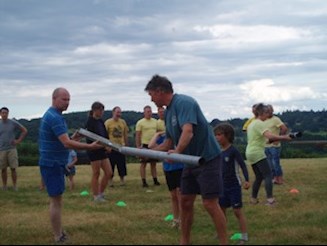 Teams from Calverleigh, Rackenford, Templeton, and Withleigh joined the blues of Washfield for an afternoon of madcap sports at the Knock-out Olympics. The contestants balanced golf balls in gutter pipes, bounced on space hoppers, jumped in dumpy sacks, shot polished pucks, memorised numbers, and hurled wet sponges at each other. For their friends and families, there was a chance to toss balls into buckets to boost their village's score.  
The sun shone, the barbecue roared, and adrenalin-fuelled village competitiveness dissolved into good-natured neighbourly banter. The afternoon ended – as all good afternoons do – with a water fight. The children of the Exe Valley skipped home wet and elated. 
Our thanks go to everyone who helped assemble the teams, organise the games, stoke the barbecue, run the bar, and attend the wounded. A special note of thanks goes to Denise Wood for the loan of her field.
Final scores:
Templeton (yellow): 29
Rackenford (orange): 27
Washfield (blue): 26
Withleigh (grey): 17
Calverleigh (green): 16
Washfield's first Burns Night celebration on 30th January was a great success.   Sixty guests enjoyed a three course traditional Burns Night meal followed by an energetic and thoroughly enjoyable dancing session led by the newly formed 'Washfield Ceilidh Band'.
The success of the evening was down to the teamwork of a large number of local residents.  An enthusiastic group set up and decorated the Hall and cleared up afterwards. In addition, there were cooks, servers, raffle organisers and, of course, band members who all worked together to produce a wonderful evening's entertainment for the people of Washfield.
Thanks should be recorded to all those who contributed to a very successful event.