Shobrooke Playing Fields
PLEASE OBSERVE CORONAVIRUS RULES WHEN USING THE PLAYING FIELDS.  THESE ARE DISPLAYED AT THE PLAY PARK
Shobrooke Playing Fields is owned and managed by Shobrooke Parish Council and is a designated field in trust.  
We are currently looking for volunteers to help with the future running of the play park including helping with new equipment decisions.  Please contact the Parish Clerk if you could help.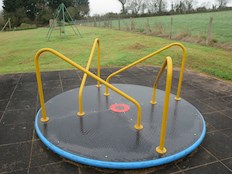 There is no parking designated for the play area. 
Please park considerately when visiting and do not block access to garages or driveways.
Dogs are not permitted at any time (except assistance dogs)
If anyone has any queries, please contact the Parish Clerk