Welcome to Down St Mary
Welcome to Down St Mary Parish Council Website
Our website aims to bring everything great about Down St Mary, the Council and events in the village to you.  If there are any suggestions, comments or information you either want to add or would like please contact us.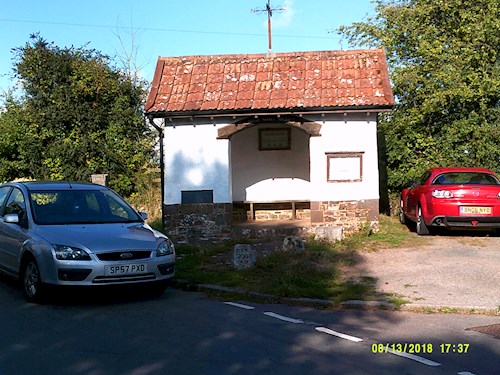 Down St Mary parish is in Mid Devon, some fourteen miles from Exeter and about twenty-five miles from Barnstaple.  The nearest town is the market town of Crediton with a good range of shops.  Our parish comprises the settlements of Morchard Road and Chaffcombe as well as the village of Down St Mary itself.  The parish has some eight farms set in the rolling hills of the Devon Countryside.  There are 169 dwellings and a population of approximately 360. The parish is served by the A377 and A3072 roads on which there are regular bus services and we have our own railway station at Morchard Road on the Exeter-Barnstable Tarka Railway Line. The centre of the village is dominated by the fine Parish Church of St Mary the Virgin, in which can be found some of the most ornate wood carvings, with the pews dating back to the Elizabethan period and the screens to Victorian Times.
For a map of the Parish click HERE
Public Notices
CORONAVIRUS
In accordance with Government instructions,  meetings of the Parish Council have been cancelled until further notice.
The Councillors are available to speak to at any time during this difficult period
Do look out for your older and more vulnerable neighbours.
If you are feeling lonely you are welcome to ring me for a chat. Anthony [84581]
Mid Devon District Council Support
"The past two weeks have seen unprecedented changes to the way we live our lives and the way we work. The Council has had to move swiftly to adapt the way we operate in order to maintain its services to customers and business, with reduced staffing and increased national pressures…
Read the full press release at:
https://www.middevon.gov.uk/support-for-our-communities-and-businesses-a-message-from-mid-devon-district-council/
MDDC has also now set up a Community Support Hotline to help individuals who need support, as well as enabling family, friends or neighbours to raise concerns about someone in their community they are worried about. The number to call is 01884 234387 and the line will be open during office hours, Monday to Thursday from 8:30am to 5:00pm and Fridays from 8:30am until 4:30pm. It will be closed on Bank Holidays.
Demand Responsive Taxi
In an effort to cater for key workers, the County Council is trialling a demand-responsive taxi facility, offering a heavily subsidized fare, designed to provide journeys no longer possible by public transport because of service reductions.  A subsidised flat fare will be charged. Requests can only be made by email and should be sent to devonbus@devon.gov.uk
Please include the following information in your email: NAME; ADDRESS; KEY WORKER STATUS; EMPLOYER / PAYROLL REF; JOURNEY REQUIREMENTS (pick up/drop off)
DCC will aim to respond as soon as possible during normal office hours – journeys should be booked 48 hours in advance of travel.
More information about the scheme is available on our news centre.
For further information please see
Shielding and Food Parcels
Emergency food parcels have arrived in Devon to be distributed to the county's most vulnerable residents, who have been told by the Government to 'shield' from coronavirus (COVID-19) for at least 12 weeks.
Those identified as being at high risk of severe illness from coronavirus because of underlying health conditions should have received a letter from the NHS with instructions on how they can best protect themselves.
People can also register themselves on the Government website if they have a medical condition that makes them extremely vulnerable to coronavirus, or register on someone's behalf.
SHOPPING
Various shops in the area are now arranging food deliveries.
Crediton Delivery Hub: 
The Crediton traders have set up a distribution hub to help those in need get deliveries to their door. Simply phone the shop you wish to make your order from; they will deliver it to the distribution hub in the High Street and it will be delivered to your door by a volunteer.
Shops involved include: Cocos Cake Shop, Chef's Choice Fish & Chip Shop, Crediton Coffee Company, Four Seasons Greengrocers, Grape & Grain Wine Merchants, The Green House Health Food Store, The Kitchen@25, Oliver's Bakery.
Full details and phone numbers are on the website: www.shopcrediton.co.uk
Bulk Buy Groceries:
A next-day food delivery service: www.bulkbuy.groceries.co.uk
Meatbox Company: 85905
Meat delivered to your door: www.themeatboxcompany.co.uk
Other local shops include:
The Duck at Yeoford
85273 to order groceries. Need to arrange a collection time
The Plant Shed, Dulings Farm, Copplestone
720073 Locally sourced produce [7 days to process an order]
Tuckers - Pet Supplies 772202
Furzedown - Beef www.devonboxedbeef.co.uk
Nisa, Copplestone  84430  www.nisalocally.com
A.J. Cox - Butcher 772091
Please let me know if you know of any other stores, particularly any that deliver locally. 
Devon Communities Together
Covid 19 Advice Information and Advice
SKITTLES NIGHT: POSTPONED
The Village Hall skittles night on Friday 27th March was cancelled because of the corona virus. It is hoped to hold it later in the year.
SUMMER FETE: POSTPONED
The Summer Fete has also been cancelled. Next year scheduled for 5th June 2021.
COULD YOU BE A PARISH COUNCILLOR 
There is at present one vacancy. Anyone interested in joining the Council should contact one of the council or the Clerk at downstmarypc@gmail.com
The Parish Council has installed defibrillators in the disused telephone boxes on the Village Green and in the Car Park on Morchard Road.
SCAM MAIL
Should you be concerned that someone you know is in receipt of scam mail please contact Royal Mail by:
Writing to Royal Mail at FREEPOST SCAM MAIL, enclosing any items that are suspected of being scam mail;
Calling the Royal Mail Scam Mail Helpline on 0800 0113 466;
Emailing scam.mail@royalmail.com
The annual accounts for 2018-2019 have been finalised
NOTICE OF PUBLIC RIGHTS - Right to inspect the accounts
The annual accounts for 2019-2020 have been produced and will be submitted to the parish council.
The Village Green is a community facility where children play. Dog owners are reminded to clear up after their dogs. Offenders can be fined up to £1000. 
M.D.D.C. are clamping down on offences of littering, fly tipping and dog fouling. Details of a recent prosecution can be found on their website: 
https://www.middevonnewscentre.info/court-orders-local-resident-to-pay-800-fine-for-dropping-cigarette-butt/
The Parish Council would like to remind residents that the off-road parking next to the bus shelter and next to the Village Hall is free for all and there are no reserved places.
The Parish Council are eager to prevent speeding in the village and have recently installed "Twenty is Plenty" signs to encourage drivers to slow down.