Parish News
The May edition of the Coldridge Calendar is now available
Click here to read or download the latest edition of our monthly village newsletter.
Contributions for the June edition should be sent fao John Smith in MS Word format (and any images as JPEGs) no later than Friday 29th May 2020.
Posted 1st May 2020
_______________________________________
VE Day 8th May 2020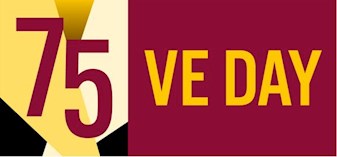 The 8th May 2020 marks 75 years since VE (Victory in Europe) Day when the Second World War came to an end in Europe. 

The long anticipated news resulted in spontaneous celebrations breaking out across the nation. Whilst the prevailing Coronavirus Lockdown has severely curtailed commemoration celebrations there are still lots of  ways that you can get involved and show your support in marking the day on social media and via your digital channels.
The government has published a toolkit of resources, which amongst other items includes bunting and posters that you can print, colour and display at home in your windows along with ideas for music and appropriate period recipes.  The site includes a creative challenge from TV Historian Dan Snow to help school children research the VE Day story.
English Heritage have prepared a special website of resources to help you mark the anniversary - click here to visit their website.
You can share your family's Second World War stories and messages of remembrance on social media, using #VEDay75 to join the conversation.
Throughout the day there will be national coverage of the event on the BBC, ITV etc including a 2 minute silence at 11.00am and a special broadcast from The Queen.
Whatever you plan to do to mark the occasion have a good and safe commemoration on Friday 8th May.
(Note: The war in the East did not end until 15 August 1945, when Japan surrendered, and the 'Victory over Japan' or VJ celebrations took place across the world).
Posted 29th April 2020
_______________________________________
The Coldridge Alternative to the 2020 London Marathon!
Message from Jayne Webber, 25th April 2020.
"I thought we would share with you/ the parish. Many of our supporters will realise that it should have been the London Marathon tomorrow. 
Ian has decided today that he is still going to run tomorrow, so he'll be taking on "London Marathon's 2.6 Challenge" to raise awareness and funds for the charities that would have benefitted from the London Marathon. 
Depending on how it goes, he'll be running an off-road half- or full-marathon. 
I've created a Facebook event page, if people would like to follow and see how it goes. 
We're still raising money for the wonderful work of Hospice UK
Thank you"!
Jayne (and Ian)
Posted 26th April 2020
_______________________________________
HEADBANDS FOR NHS DEVON - AN URGENT CALL FOR HELP FROM COLDRIDGE WI
Sharing an urgent request from Jo Dike on behalf of Coldridge WI...
"Finally we have been asked to do something practical in the current crisis to help all the wonderful people in the NHS and wider care sector.  They desperately need headbands to make wearing their masks more comfortable (at present lots of NHS staff have sore ears because the elastic rubs their skin, when they get hot and bothered during their

long shifts).
Several Coldridge WI members have started making the headbands and have rapidly realised that we need help from our community. 
What we need are the following:
o People who like using a sewing machine

to help with the cutting out and machining.
o People who like sewing on buttons

to do some of that (2 per headband).
o Fabric

– any good condition material

washable up to 60 degrees

, such as polycotton sheeting or redundant duvet covers or similar. The material will be cut on the cross so needs to be a bit stretchy when pulled on the bias. Any colour/pattern will do.

Please wash to 60 degrees before donating

.
o Buttons - 

same size as a 10p piece

(or bigger) but without shanks – these will be big enough for the mask elastic to hitch round and stay secure. Time to get out Granny's button box!
o Sewing thread - preferably modern polyester that should then be well behaved on the machine. If you are donating fabric and have any thread to match, that would be marvellous.
If you would like to take on making complete headbands, then we will give you the approved pattern

, with some easy grid paper to make it from, together with the detailed instructions. The headbands will be given to local Devon hospitals, health centres, care homes and other appropriate front line staff. We have been told that at present supply will not outstrip demand (8,000 people work at the RD&E alone!), so there is work to be done!
If you can help with any of the above please contact Jo Dike on 01363 83329.

Many thanks and good wishes from all the members of Coldridge WI.
Jo Dike, 23rd April 2020.
PS Picture of finished product below.
Posted 24th April 2020
_______________________________________
Parish Council Update:  Coronavirus - Coldridge Parish Council Receives Support Grant

The Parish Council has applied for, and been given, a few hundred pounds to help deal with any extra costs or expenses due to COVID-19. Some of this is being spent on printing hard copies for the Daily COVID Bulletin for those not on the internet. It is possible for the Parish Council to reimburse petrol costs for anyone who has done special trips to help vulnerable people in the parish, such as shopping or collecting medicine.
As John Smith is the SPOC and publicises all the requests for help can I ask that all requests for this go through him, with the date of the trip, who the trip was for and its purpose and where you went. Many thanks,
Keyth Richardson (Clerk to Coldridge Parish Council.)
Posted 17th April 2020
_______________________________________
Coldridge Parish Council update during the COVID-19 outbreak
Extracted from the Coldridge 'Daily Bulletin', 8th April 2020.
"The Parish Council met on March 19th just before the main control measures were introduced and two Councillors wisely sent apologies following government advice at the time. The Council spread itself around the village hall to prevent any possible spread of COVID-19, although no Councillors had any symptoms.
Following legal advice, and to ensure the Council activities could continue, the council agreed to delegate decision-making powers to the Clerk, who is required to discuss any decisions with the Chairman and Vice-Chairman before making them. All payments still need the signatures of two Councillors, and all payments are made by cheque. Normally the next meeting would be in late May, followed by July, September and November. It is hoped the COVID-19 outbreak will be under control by the autumn so the Council can resume its normal activities. Records will be kept of any decisions made and all the Councillors kept informed.
Following publication of new legislation (The Coronavirus Act 2020), the Parish Council is not required to hold an annual meeting this year, so will not do so, and has been granted the authority to hold meetings remotely, although how this could be done in our case is unclear. There will also be revised regulation regarding the auditing and publication of the accounts for 2019/20 but as we do not know what these are.
The Council will not proceed with co-opting a Councillor to replace the late John Daw until the COVID-19 restrictions on public gatherings are eased or abolished to allow the Council to meet in one place".
Posted 8th April 2020
_______________________________________
**UPDATE** DEFRA Guidance on Avian Influenza (Bird Flu)

SITUATION UPDATE - 19th May 2020:
Current Status
According to DEFRA's website, the UK does not currently have any notified outbreaks of bird flu. However, outbreaks of highly pathogenic avian influenza (H5N8) have been found in poultry and wild birds in several countries across Europe. The current risk of bird flu occurring in the UK is "low". All keepers are encouraged to be aware of the appropriate bio-security guidelines and measures - Click here to view or download the latest version.
-----
General Information and Links
Despite the current 'low-risk' status across the UK, continued vigilence by all poultry keepers is therefore recommended. If you keep poultry, even including game birds or as pet birds, you should refer to the DEFRA Avian Flu website for information, and follow recommendations on biosecurity best practice advice. This is especially relevant if your birds are located in a Higher Risk Area (HRA) - whether you manage a commercial flock or just a few birds in your backyard. 
Despite the current infection-free status Bird Flu remains a notifiable disease. Anyone who finds dead wild birds (e.g. wild waterfowl [swans, geese or ducks] or other dead wild birds, such as gulls or birds of prey) should report them to the Defra helpline on 03459 335577.
The latest information and guidance is maintained and available via pages on the DEFRA website which includes regularly updated data on reported wild bird deaths across English counties.
Updated 12th November; 13th December 2019; 4th January, 13th January, 12th & 28th February, 18th March 2020, 2nd April, 29th May.

________________________________________
Coronavirus - Coldridge Faith Group News
A couple of messages from our Faith Groups regarding services and meetings under current situation:-
St Matthew's:  All Church Services are suspended for the foreseeable future. The Church will remain open daily between 10am and 4pm for anyone wishing to attend for prayer during this difficult time. Sue Lawrence, Churchwarden at St. Matthew's Coldridge, 18th March 2020

Allerbridge Chapel:  Be advised that all meetings at Allerbridge Chapel have been cancelled until further notice. Phil Redstone, 18th March 2020

Posted 21st March 2020
_______________________________________
Important information concerning the 2020 Coldridge Fete, Vintage Rally, Flower Festival & Dog Show
Dear all,
Earlier today, in the light of current Coronavirus situation and guidance, the Coldridge Fete Committee took the decision to postpone the 2020 Fete.  A new date of Saturday 26th June 2021 has been agreed.
The Committee would like to thank all who put their names forward to volunteer in 2020 and also to those who joined us and participated in our Fete Open Meetings.
We hope we are able to count on your support once again in 2021 when this present emergency has passed.
Thank you all for your understanding.
Keep safe and stay well.
Ivan Kriznik (on behalf of the Coldridge Fete Committee), 18th March 2020
Posted 18th March 2020
_______________________________________
Important information from Coldridge Village Hall Social Committee
Dear all,
In light of the present Coronavirus emergency and in line with current Government guidance the Village Hall Social Committee have decided that with immediate effect all social events planned to be held in the Village Hall are cancelled for the foreseeable future.
In addition the Charity Clay shoot planned for Saturday May 2nd has been postponed.
Thank you all for your understanding.
Keep safe and stay well.
Ivan Kriznik (on behalf of Coldridge Village Hall Social Committee), 18th March 2020
Posted 18th March 2020
_______________________________________
UPDATE:  Viveka Gardens Yoga Classes move On-Line!!
Yoga classes at Viveka Gardens and other local venues are now cancelled until further notice - but classes are now available online!
Click here for further details on how it works, class times and hear what on-line participants think of this new approach.  Alternatively, follow Viveka Gardens on the 'Whats on in Coldridge Devon' Facebook page.
Posted 18th March 2020
_______________________________________
TODDLER GROUP UPDATE:  Tuesday 17th March, 9:45pm
Dear all,
Coldridge Toddler Group sessions will not be running until further notice 😞. 
Keep safe everyone!!
Vickki Ridge
Posted 18th March 2020
_______________________________________
Stay Connected to our Coldridge Parish Website - Your action required before 1st April 2020
Mid-Devon District Council have informed me that our Parish Website domain name has now been changed from parish.middevon.gov.uk/coldridge to middevonparish.co.uk/coldridge.
This change is now live, however to assist users (especially those who have set-up links to this site on 3rd party websites) the former domain name will remain in service until 1st April 2020. 
Your action:  In order to remain connected to the parish website please take a few minutes to update your internet browser's favourites bookmark with this new Coldridge website domain name middevonparish.co.uk/coldridge before 1st April.
Please let me know if you have any questions or need a little help to implement these changes. 
Kind regards, Ivan.
Posted 10th March 2020

_______________________________________
Now on Sale - 'THE COLDRIDGE MILLENNIUM CELEBRATION NIGHT' DVD (incl. the video 'COLDRIDGE: THE GEM OF MID DEVON')

At last, a great chance to buy your very own copy of these two historic, "Millennium" films on a single DVD!
These films were originally made by Coldridge people and they feature many familiar local 'faces and places' around the parish of Coldridge; you never know: YOU MIGHT BE ON IT! Buy a copy and check it out!
The original VHS recordings have lain neglected, but not completely forgotten, in a few cupboards around here, since 2000. Dusted off and freshly re-mastered by John Dike onto a single DVD for a recent Gardening Club meeting, it was suddenly realised how important these two films are as a piece of local, social history…and all very funny too!
So: If you still live in the parish and would like to catch up with scenes and friends past (or sadly passed) and present, or if you used to live here and would like to re-visit your old haunts from the comfort of your distant armchair, or even if you have recently moved here and would like to see the funnier side of some of your new neighbours and friends, then please look no further.

COPIES ARE JUST £5.00 each (+ £1.50 p&p per copy if outside the parish), available to buy and collect at various local functions from 15th March, or by calling John Smith (83436), Ivan Kriznik (884233) or John Dike (83329).  Alternatively you can email an order using this 'on-line' order form - click here. 
All profits will go to Coldridge Village Hall.
Thanks for your support. Ivan K.
Posted 17th March 2019
_______________________________________