Parish News
The May edition of the Coldridge Calendar is now available
Click here to view the latest edition of our monthly village newsletter. A selection of notable news is also shared below. 
Contributions for the June 2021 edition should be sent fao John Smith in MS Word format (and any images as JPEGs) no later than Sunday 23rd May 2021. 
Posted 27th April 2021

_______________________________________
Coldridge walks for the Captain Tom Foundation, Sunday 2nd May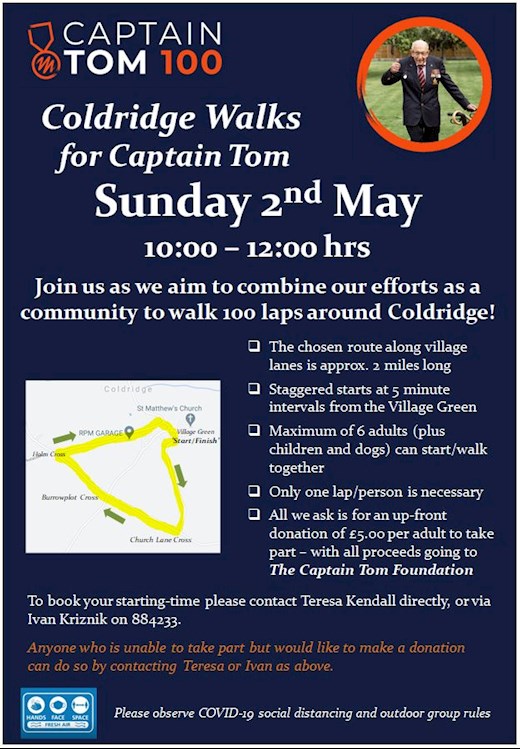 Posted 24th April 2021

_______________________________________
Service Update: Torrington Mobile Library
Devon Libraries have announced that all being well they hope to be able to have the Mobile Library back on the road from 12th April.
Whilst Covid rules will apply, people can come on board the van in their household bubbles and choose your own books.  To make sure that there are enough books to go around we will be limiting borrowing to 5 books per person for the time being.  Books may also be returned to the van (including those borrowed before the last Lockdown; these will be quarantined for 72 hours before being available for others. Please wear a face mask, use the hand sanitiser and observe social distancing rules when using the mobile library.
The next visit to Coldridge will be on Thursday 15th April:  Coldridge Square 14.15 - 15.00 hrs.  The full timetable with all visit dates for 2021 is available on the Devon Libraries website - www.devonlibraries.org.uk/web/arena/mobilelibraries.  If you have any queries, please contact us via email: torrington.mobile@librariesunlimited.org.uk
Please note that the return of the mobile library service is subject to the Government roadmap going forward as planned. If we go into another lockdown the level of service, we can offer may change again.
Posted 2nd April 2021

_______________________________________
Update about the postponed 2020 Coldridge Fete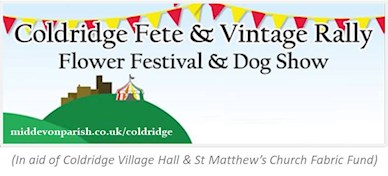 "The Fete Committee met recently via Zoom to discuss the possibility of going ahead with the postponed 2020 Coldridge Village Fete and Vintage Rally on 26th June 2021.
The Committee felt that there was too much uncertainty about whether all restrictions would be lifted by the end of June 2021, making it difficult to plan properly for a Fete this year. This was then reinforced by the announcement made by the Prime Minister on 22nd February 2021 about the lifting of lockdown rules in England. As a consequence, we have decided to cancel this year and look forward to putting all our energy into preparing for a fabulous Fete in 2022.
The date for the 2022 Coldridge Fete, Vintage Rally, Flower Festival and Dog Show is Saturday 2nd July 2022. Please keep the date free, more information will be available later in the year.
We are still hoping to put on a smaller Parish based event sometime this summer to mark the reopening of the Village Hall and giving us a chance to celebrate all our community-based activities. Further information will be available in due course.
Lisa Brock
Secretary, Coldridge Village Fete Committee"
Posted 28th March 2021

_______________________________________
GOV.UK - Avian Influenza: Housing measures set to be lifted on 31 March
On 27th March, the Chief Veterinary Officers from England, Scotland and Wales announced that current compulsory housing measures for poultry and captive birds are set to be lifted at the end of this month. Measures put in place have been successful in helping to contain the disease and, provided that there are no new significant cases between now and the end of March, the current measures are due to be relaxed. The last confirmed case in poultry in Great Britain was over a month ago on 12 February in Scotland.
A copy of the full DEFRA release can be viewed at GOV.UK;  further indoemation and advice can be found on the DEFRA website.
Posted 28th March 2021

_______________________________________
Elections are taking place across Mid-Devon on May 6th
Are you Registered to Vote?
Elections will be held across the district for the Police and Crime Commissioner, Devon County Council, district and parish by-elections and, for those in the catchment area, the Cullompton planning referendum. There are a number of ways to have your say in the elections in May - you can vote in a polling station, by post, or by a proxy vote.
You need to be registered to vote in order to have a say at the elections - the easiest way to register is online at Gov.UK;  alternatively you can register using the Electoral Commission website.
The deadline for applying for a postal vote is 5pm on Tuesday 20 April 2021
The deadline for applying for a proxy vote is 5pm on Tuesday 27 April 2021
For more details visit the Mid-Devon elections page which will be updated as soon as new information becomes available.  You can also email elections@middevon.gov.uk.
Posted 23rd March 2021

_______________________________________
Coldridge 647 Friday Bus Service - Change of Operator
On 30th December, the Parish Council advised parishoners that going forwards, the Friday Coldridge 647 bus service between Hatherleigh and Exeter will be operated by MD Coaches. A copy of their correspondence (including details of the new phone number to use when pre-booking a seat) below:-
"Dear Mr Smith,
Thank you for your email.
I can confirm that Devon County Council Has awarded this service to us.
You can contact our office from 0700hrs until 1700hrs, Monday to Friday. Our number – 01363 82200.
You can use this number to pre-book a seat although, as this is a registered service, the bus will travel to Coldridge as per timetable whether any pre- bookings have been made or not.  Social distancing will be maintained when possible, Face coverings to be worn at all times, in line with other service bus travel.  Our vehicles undergo a full disinfectant fogging spray at the end of each day to minimise risk as much as possible. In addition, a Handheld spray is used throughout the day.
I hope this provides a little peace of mind for the residents of Coldridge that we will be doing our utmost to provide as safe as possible an environment to travel in.
I have provided a copy of the Full Timetable, attached to this email.
If you have any other queries please do not hesitate to contact me.
Kind regards;
David Pocock,  Transport Manager
Linden Holdings (Devon) Ltd
Office 01363 82200"
-----
The MD Coaches based Coldridge 647 service timetable is as follows: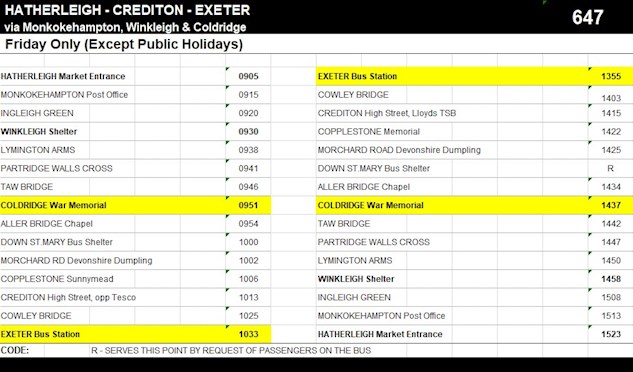 Posted 31st December 2020 
_______________________________________
Asian Hornet Threat - Beekeepers and walkers be on the look-out
There have been a number of articles on BBC News and Radio 4 Today programme today alerting Beekeepers (and all of us) to be on the look-out for Asian Hornets in the English countryside. 
Asian Hornets are extreme invasive predator with an voracious appetite for bees and other pollinators, setting up their nests near to bee-hives.
Sightings have already been reported this year in the Channel Islands with fears that the UK may be next on their itinerary! FYI as I write there's no evidence of confirmed sightings in mainland England so far this year ( see last update DEFRA - last sightings 2019).
If you'd like to find out more click this link to watch a short video on the BBC News website.
If you suspect you've spotted one, details of how you can report are signposted in the poster above ( ...on-line, by email or via an iPhone or Android app).
Posted 3rd June 2020
_______________________________________
Coronavirus - Coldridge Faith Group News
A couple of messages from our Faith Groups regarding services and meetings under current situation:-
St Matthew's:  All Church Services are suspended for the foreseeable future. The Church will remain open daily between 10am and 4pm for anyone wishing to attend for prayer during this difficult time. Sue Lawrence, Churchwarden at St. Matthew's Coldridge, 18th March 2020

Allerbridge Chapel:  Be advised that all meetings at Allerbridge Chapel have been cancelled until further notice. Phil Redstone, 18th March 2020

Posted 21st March 2020
_______________________________________
Important information from Coldridge Village Hall Social Committee
Dear all,
In light of the present Coronavirus emergency and in line with current Government guidance the Village Hall Social Committee have decided that with immediate effect all social events planned to be held in the Village Hall are cancelled for the foreseeable future.
In addition the Charity Clay shoot planned for Saturday May 2nd has been postponed.
Thank you all for your understanding.
Keep safe and stay well.
Ivan Kriznik (on behalf of Coldridge Village Hall Social Committee), 18th March 2020
Posted 18th March 2020
_______________________________________
UPDATE:  Viveka Gardens Yoga Classes move On-Line!!
Yoga classes at Viveka Gardens and other local venues are now cancelled until further notice - but classes are now available online!
Click here for further details on how it works, class times and hear what on-line participants think of this new approach.  Alternatively, follow Viveka Gardens on the 'Whats on in Coldridge Devon' Facebook page.
Posted 18th March 2020
_______________________________________
TODDLER GROUP UPDATE:  Tuesday 17th March, 9:45pm
Dear all,
Coldridge Toddler Group sessions will not be running until further notice 😞. 
Keep safe everyone!!
Vickki Ridge
Posted 18th March 2020
_______________________________________