Parish News
The December edition of the Coldridge Calendar is now available
Click here to view the latest edition of our monthly village newsletter. A selection of notable news is also shared below. 
Contributions for the January 2021 edition should be sent fao John Smith in MS Word format (and any images as JPEGs) no later than Saturday 19th December 2020. 
Posted 27th November 2020 
_______________________________________
Mid-Devon District Council - "Your waste, your responsibility"
Posted 23-11-2020
In a recent Press Release concerning environmental matters, Mid Devon District Council is reminding residents that it is the resident's responsibility to dispose of waste correctly, even if they have paid someone else to take away the material. 
A full copy of the release along with some additional guidance and validation questions to ask before you is available to read by clicking here.
Posted 27th November 2020 
_______________________________________
Mobile Library Service - 2021 Calendar dates for the diary
The 2021 mobile library calendar for Coldridge is now available (copy below)
Current COVID-19 conditions mean that the mobile library continues to operate under the 'Choose and Collect' service which requires advanced notice of your choice or preferences for books.  You can make your reading requests to Julie (our Mobile Librarian) by email at torringtonlibrary@librariesunlimited.org.uk;  books will be supplied bagged and ready for you to collect at the next visit.
Further information can be found on the Devon Libraries website.
Posted 27th November 2020 
_______________________________________
Advanced Notice - Village Road Closure
15th - 17th December 2020
A quick roads update on behalf of the Parish Council...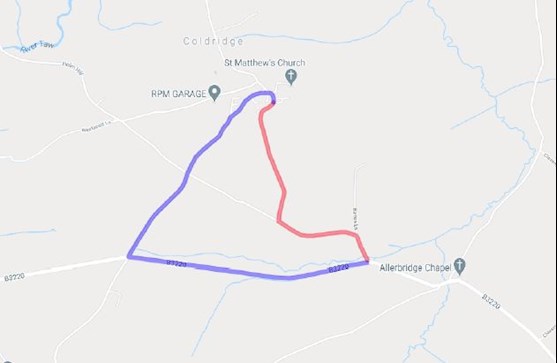 Posted 20th November 2020
_______________________________________
Update about the 2021 Coldridge Fete
The Fete Committee met recently to discuss the possibility of going ahead with the postponed 2020 Coldridge Village Fete and Vintage Rally on 26th June 2021.
It was felt that because the situation with Covid 19 remains unclear it was best not to try to decide as yet, but to wait until February 2021 when the outlook for the pandemic may be clearer. We plan to make a definite decision whether to go ahead or cancel by the middle of March 2021 at the latest.
If we decide not to go ahead with the Fete until 2022, it may be possible to put on a smaller Parish based event on 26th June 2021 instead, which will give us the opportunity to get together as a Community, following whatever Covid 19 rules are in place at the time.
If anyone has any views about holding the Fete in either 2021 or 2022 and would like to share them, please speak to any member of the Committee:
Margaret Burrows
Marion Born
Lisa Brock
Andrew Green
Keyth Richardson
Ivan Kriznik
Sally Cooke
Or email: c.fete@ecomail.uk
Posted 16th November 2020
_______________________________________
**URGENT UPDATE** DEFRA Guidance on Avian Influenza (Bird Flu)

SITUATION UPDATE - 11th November 2020
Affecting all Poultry and other captive birds
In summary from GOV.UK's DEFRA website Avian Flu page:-
An Avian Influenza Prevention Zone (AIPZ) has been declared across the whole of England effective from 5pm on 11 November 2020.
The decision to implement this AIPZ follows a risk assessment containing the latest scientific and ornithological evidence and veterinary advice.  All poultry keepers in England (whether they have commercial flocks or just a few birds in a backyard flock) are required by law to take a range of biosecurity precautions. The AIPZ means extra biosecurity measures must be done by all bird keepers (including game birds and pet birds) to protect them from the risk of avian influenza from wild birds.
If you keep poultry (including gamebirds or pet birds) or other captive birds, you must act now to reduce the risk of disease in your flock by following the relevant biosecurity measures required within the AIPZ. All bird gatherings within the AIPZ are prohibited therefore the general licence that had permitted bird gatherings has been revoked.
For the latest information please refer to the DEFRA Avian Flu pages.
Posted 11th November 2020
_______________________________________
Latest edition of the Neighbourhood Watch 'Ournews' e-newsletter is now available

Click here to read on-line or download a copy of the November e-newsletter.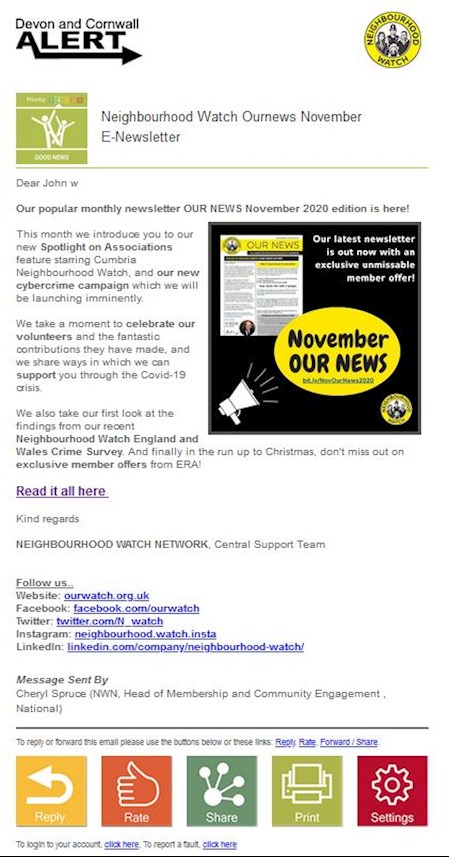 Posted 5th November 2020
_______________________________________
***Mid-Devon Council - Check your waste and recycling collection dates online***
For many years the Council created a waste and recycling calendar, in printed format, which was sent out to all households in the district. However, with mounting costs and a drive to reduce paper usage the calendar will now be available in an online format. 
You can access the announcement and view or download the 2020/21 calendar related to your postcode
via this link.
Posted 4th October 2020
_______________________________________
Christmas Trees delivered to your door for 2020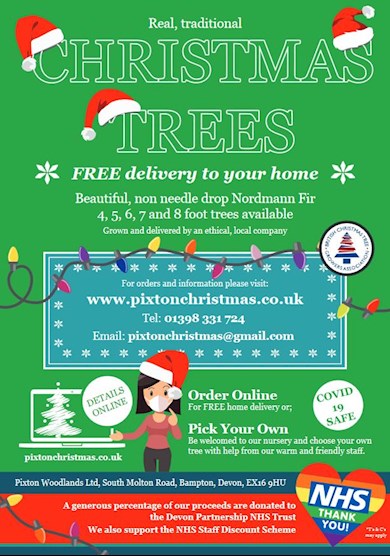 Posted 30th September 2020

_______________________________________
Helen's Macmillan Coffee Morning... The results so far

A message from Helen Smith, organiser of the annual Macmillan Coffee Morning in Coldridge :-
"A HUGE 'Thank You' to everyone who has given me a donation for MacMillan Cancer Support.
Since I was unable to hold a Coffee Morning during the present pandemic, the money raised has come as a big surprise……£257.50.   Thank You, Thank You, to all of you!!
Hopefully, next year we will be able to have the social gathering we have become used to?                                                            
Helen"
Posted 30th September 2020

_______________________________________
The Mobile Library Service Returns with a new service on 13th July
Devon Mobile Libraries have announced they will be back on the road bringing books to you from July 13th 2020. To make sure that customers and staff are safe, we will only be offering a new type of contactless service for the time being. It's called Choose & Collect.
What is Choose and Collect?
• a free delivery of up to 5 books or audiobooks per person
• selected by staff based on your reading preferences
• you collect from your usual mobile library stop
• selections available for adults and children.

How do I make sure I get a Choose and Collect delivery?
• Even if we rang you to offer you your first delivery, we regret we can't do this every month. You must contact us to order again.
• Order at least 1 week before the mobile library visits your village or stop.
• You can check Torrington Mobile Library timetable on our website: www.devonlibraries.org.uk/web/arena/mobilelibraries
• Order a delivery by emailing torrington.library@librariesunlimited.org.uk or calling 01805 622107 during normal opening hours: Tue 10-6, Thu 10-5, Fri 10-1, Sat 10-1
• Remember to tell staff you are a mobile library customer.
• New customers are welcome, just mention you wish to join the mobile library.

What else do I need to know?
• If you are experiencing any Covid-19 symptoms please don't come to the library.
• We will bag up your books ready for collection, they will have already been issued to your library card to reduce contact.
• Please use our hand sanitiser station and follow social distancing rules when you collect and return items. All returned items will be quarantined for 72 hours.
• We can only deliver pre-ordered selections for now, and regret that staff can't check the shelves for items while you wait during this phase of reopening.
• Items will be collected and returned at the entrance of the mobile library. You won't be able to enter the vehicle to browse or choose for yourself.
• We look forward to seeing you again, please be patient while we get used to this new way of working.
-----
Mobile Library Visiting Times in Coldridge (Village Green)

Dates: Thursdays on July 23rd; August 20th; September 17th; October 15th; November 12th and December 10th
Time: 2.15pm until 3.00pm
Click here to access a full copy of the Torrington Mobile Library Timetable for 2020.
Note - Current loan(s) have now been extended to 31st August 2020, and no fines will apply for loans during the period of closure.

Posted 4th July 2020

_______________________________________
Asian Hornet Threat - Beekeepers and walkers be on the look-out
There have been a number of articles on BBC News and Radio 4 Today programme today alerting Beekeepers (and all of us) to be on the look-out for Asian Hornets in the English countryside. 
Asian Hornets are extreme invasive predator with an voracious appetite for bees and other pollinators, setting up their nests near to bee-hives.
Sightings have already been reported this year in the Channel Islands with fears that the UK may be next on their itinerary! FYI as I write there's no evidence of confirmed sightings in mainland England so far this year ( see last update DEFRA - last sightings 2019).
If you'd like to find out more click this link to watch a short video on the BBC News website.
If you suspect you've spotted one, details of how you can report are signposted in the poster above ( ...on-line, by email or via an iPhone or Android app).
Posted 3rd June 2020
_______________________________________
HEADBANDS FOR NHS DEVON - AN URGENT CALL FOR HELP FROM COLDRIDGE WI
Sharing an urgent request from Jo Dike on behalf of Coldridge WI...
"Finally we have been asked to do something practical in the current crisis to help all the wonderful people in the NHS and wider care sector.  They desperately need headbands to make wearing their masks more comfortable (at present lots of NHS staff have sore ears because the elastic rubs their skin, when they get hot and bothered during their

long shifts).
Several Coldridge WI members have started making the headbands and have rapidly realised that we need help from our community. 
What we need are the following:
o People who like using a sewing machine

to help with the cutting out and machining.
o People who like sewing on buttons

to do some of that (2 per headband).
o Fabric

– any good condition material

washable up to 60 degrees

, such as polycotton sheeting or redundant duvet covers or similar. The material will be cut on the cross so needs to be a bit stretchy when pulled on the bias. Any colour/pattern will do.

Please wash to 60 degrees before donating

.
o Buttons - 

same size as a 10p piece

(or bigger) but without shanks – these will be big enough for the mask elastic to hitch round and stay secure. Time to get out Granny's button box!
o Sewing thread - preferably modern polyester that should then be well behaved on the machine. If you are donating fabric and have any thread to match, that would be marvellous.
If you would like to take on making complete headbands, then we will give you the approved pattern

, with some easy grid paper to make it from, together with the detailed instructions. The headbands will be given to local Devon hospitals, health centres, care homes and other appropriate front line staff. We have been told that at present supply will not outstrip demand (8,000 people work at the RD&E alone!), so there is work to be done!
If you can help with any of the above please contact Jo Dike on 01363 83329.

Many thanks and good wishes from all the members of Coldridge WI.
Jo Dike, 23rd April 2020.
PS Picture of finished product below.
Posted 24th April 2020
_______________________________________
Parish Council Update:  Coronavirus - Coldridge Parish Council Receives Support Grant

The Parish Council has applied for, and been given, a few hundred pounds to help deal with any extra costs or expenses due to COVID-19. Some of this is being spent on printing hard copies for the Daily COVID Bulletin for those not on the internet. It is possible for the Parish Council to reimburse petrol costs for anyone who has done special trips to help vulnerable people in the parish, such as shopping or collecting medicine.
As John Smith is the SPOC and publicises all the requests for help can I ask that all requests for this go through him, with the date of the trip, who the trip was for and its purpose and where you went. Many thanks,
Keyth Richardson (Clerk to Coldridge Parish Council.)
Posted 17th April 2020
_______________________________________
Coldridge Parish Council update during the COVID-19 outbreak
Extracted from the Coldridge 'Daily Bulletin', 8th April 2020.
"The Parish Council met on March 19th just before the main control measures were introduced and two Councillors wisely sent apologies following government advice at the time. The Council spread itself around the village hall to prevent any possible spread of COVID-19, although no Councillors had any symptoms.
Following legal advice, and to ensure the Council activities could continue, the council agreed to delegate decision-making powers to the Clerk, who is required to discuss any decisions with the Chairman and Vice-Chairman before making them. All payments still need the signatures of two Councillors, and all payments are made by cheque. Normally the next meeting would be in late May, followed by July, September and November. It is hoped the COVID-19 outbreak will be under control by the autumn so the Council can resume its normal activities. Records will be kept of any decisions made and all the Councillors kept informed.
Following publication of new legislation (The Coronavirus Act 2020), the Parish Council is not required to hold an annual meeting this year, so will not do so, and has been granted the authority to hold meetings remotely, although how this could be done in our case is unclear. There will also be revised regulation regarding the auditing and publication of the accounts for 2019/20 but as we do not know what these are.
The Council will not proceed with co-opting a Councillor to replace the late John Daw until the COVID-19 restrictions on public gatherings are eased or abolished to allow the Council to meet in one place".
Posted 8th April 2020
_______________________________________
Coronavirus - Coldridge Faith Group News
A couple of messages from our Faith Groups regarding services and meetings under current situation:-
St Matthew's:  All Church Services are suspended for the foreseeable future. The Church will remain open daily between 10am and 4pm for anyone wishing to attend for prayer during this difficult time. Sue Lawrence, Churchwarden at St. Matthew's Coldridge, 18th March 2020

Allerbridge Chapel:  Be advised that all meetings at Allerbridge Chapel have been cancelled until further notice. Phil Redstone, 18th March 2020

Posted 21st March 2020
_______________________________________
Important information concerning the 2020 Coldridge Fete, Vintage Rally, Flower Festival & Dog Show
Dear all,
Earlier today, in the light of current Coronavirus situation and guidance, the Coldridge Fete Committee took the decision to postpone the 2020 Fete.  A new date of Saturday 26th June 2021 has been agreed.
The Committee would like to thank all who put their names forward to volunteer in 2020 and also to those who joined us and participated in our Fete Open Meetings.
We hope we are able to count on your support once again in 2021 when this present emergency has passed.
Thank you all for your understanding.
Keep safe and stay well.
Ivan Kriznik (on behalf of the Coldridge Fete Committee), 18th March 2020
Posted 18th March 2020
_______________________________________
Important information from Coldridge Village Hall Social Committee
Dear all,
In light of the present Coronavirus emergency and in line with current Government guidance the Village Hall Social Committee have decided that with immediate effect all social events planned to be held in the Village Hall are cancelled for the foreseeable future.
In addition the Charity Clay shoot planned for Saturday May 2nd has been postponed.
Thank you all for your understanding.
Keep safe and stay well.
Ivan Kriznik (on behalf of Coldridge Village Hall Social Committee), 18th March 2020
Posted 18th March 2020
_______________________________________
UPDATE:  Viveka Gardens Yoga Classes move On-Line!!
Yoga classes at Viveka Gardens and other local venues are now cancelled until further notice - but classes are now available online!
Click here for further details on how it works, class times and hear what on-line participants think of this new approach.  Alternatively, follow Viveka Gardens on the 'Whats on in Coldridge Devon' Facebook page.
Posted 18th March 2020
_______________________________________
TODDLER GROUP UPDATE:  Tuesday 17th March, 9:45pm
Dear all,
Coldridge Toddler Group sessions will not be running until further notice 😞. 
Keep safe everyone!!
Vickki Ridge
Posted 18th March 2020
_______________________________________