Village Hall
Coldridge Village Hall
Address:
Village Hall
Coldridge
CREDITON
EX17 6AX
--o0o--
Important information from Coldridge Village Hall Social Committee
Dear all,
In light of the present Coronavirus emergency and in line with current Government guidance the Village Hall Social Committee have decided that with immediate effect all social events planned to be held in the Village Hall are cancelled for the foreseeable future.
In addition the Charity Clay shoot planned for Saturday May 2nd has been postponed.
Thank you all for your understanding.
Keep safe and stay well.
Ivan Kriznik (on behalf of Coldridge Village Hall Social Committee)
18th March 2020
Posted 18th March 2020
__________
Village Hall Hiring & Use Terms & Conditions
The Village Hall provides a focal point and facility for local groups to hold regular meetings as well as hosting fun village events such as film-nights, talent contests and parties.  Use of the hall is not just limited to Village Groups as private hiring of the facility can also be arranged via the Village Hall Social Committee.
Details of our Hiring Agreement and fees connected with hall hiring and its use are available on request.
For further information re availability and confirming hall bookings, please contact Shirley King on 01363 83543.
Posted 26th May 2017; Updated 24th December 2017, 2nd January 2019, 15th January 2020

----o0o----
Village Hall News & Fundraising Events
Now on Sale - 'THE COLDRIDGE MILLENNIUM CELEBRATION NIGHT' DVD (incl. the video 'COLDRIDGE: THE GEM OF MID DEVON')

At last, a great chance to buy your very own copy of these two historic, "Millennium" films on a single DVD!
These films were originally made by Coldridge people and they feature many familiar local 'faces and places' around the parish of Coldridge; you never know: YOU MIGHT BE ON IT! Buy a copy and check it out!
The original VHS recordings have lain neglected, but not completely forgotten, in a few cupboards around here, since 2000. Dusted off and freshly re-mastered by John Dike onto a single DVD for a recent Gardening Club meeting, it was suddenly realised how important these two films are as a piece of local, social history…and all very funny too!  Thanks to John Dike and Ivan Kriznik, we have now found a way to reproduce multiple copies for sale to you, at a bargain price and all in aid of the Village Hall upgrades.
So: If you still live in the parish and would like to catch up with scenes and friends past (or sadly passed) and present, or if you used to live here and would like to re-visit your old haunts from the comfort of your distant armchair, or even if you have recently moved here and would like to see the funnier side of some of your new neighbours and friends, then please look no further.

COPIES ARE JUST £5.00 each (+ £1.50 p&p per copy if outside the parish), available to buy and collect at various local functions from 15th March, or by calling John Smith (83436), Ivan Kriznik (884233) or John Dike (83329).  Alternatively you can email an order using this 'on-line' order form - click here. 
All profits will go to Coldridge Village Hall.
Thanks for your support. IvanK.
Posted 17th March 2019
 ---o0o---
Coldridge Defibrillators
Our parish now has 2 defibrillator devices available for emergency use - details below.
Usage & CPR
Further information on local defibrillator use (incl. CPR) is provided here. 
Additional guidance includuing a short 'how to' video on CPR is provided by the British Heart Foundation (link here).
 --o0o--
1. Coldridge Village Hall
Post Code      EX17 6AX
What 3 Words app locator phrase      ///sports.elect.silver
A public access Defibrillator is available in Coldridge village centre, located on the wall of the Village Hall kitchen courtyard. Actions to take in case of an emergency are signposted by the defibrillator, along with vocal guidance provided by the device once opened.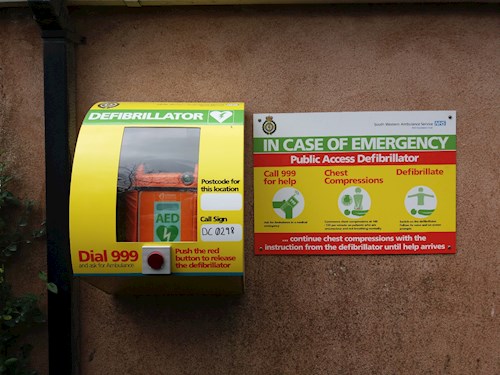 Coldridge Village Hall Defibrillator and ICE Instructions   
                      Defibrillator Location @ the Village Hall

  --o0o--
2. 'Old Phone Box', East Leigh
Post Code:   Approx EX17 6BJ

What 3 Words app locator phrase     ///stretcher.reactions.dolls
The Parish's second defibrillator is now up/running, located in the old phone box in East Leigh.

 Posted 7th April 2017; Updated 4th April 2018, 29th April 2018
--o0o--