Village Hall
Coldridge Village Hall
Address:
Village Hall
Coldridge
CREDITON
EX17 6AX
--o0o--
Village Hall Hiring & Use Terms & Conditions
The Village Hall provides a focal point and facility for local groups to hold regular meetings as well as hosting fun village events such as film-nights, talent contests and parties.  Use of the hall is not just limited to Village Groups as private hiring of the facility can also be arranged via the Village Hall Social Committee.
Details of our Hiring Agreement and fees connected with hall hiring and its use are available on request.
For further information re availability and confirming hall bookings, please contact Shirley King on 01363 83543.
Posted 26th May 2017; Updated 24th December 2017, 2nd January 2019, 15th January 2020

----o0o----
Coldridge Defibrillators
Our parish now has 2 defibrillator devices available for emergency use - details below.
Usage & CPR
Further information on local defibrillator use (incl. CPR) is provided here. 
Additional guidance includuing a short 'how to' video on CPR is provided by the British Heart Foundation (link here).
 --o0o--
1. Coldridge Village Hall
Post Code      EX17 6AX
What 3 Words app locator phrase      ///harnessed.encoded.curable
A public access Defibrillator is available in Coldridge village centre, located on the wall of the Village Hall kitchen courtyard. Actions to take in case of an emergency are signposted by the defibrillator, along with vocal guidance provided by the device once opened.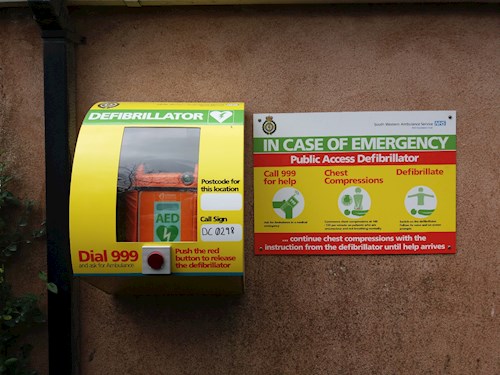 Coldridge Village Hall Defibrillator and ICE Instructions   
                      Defibrillator Location @ the Village Hall

  --o0o--
2. 'Old Phone Box', East Leigh
Post Code:   Approx EX17 6BJ

What 3 Words app locator phrase     ///stretcher.reactions.dolls
The Parish's second defibrillator is now up/running, located in the old phone box in East Leigh.

 Posted 7th April 2017; Updated 4th April 2018, 29th April 2018
--o0o--