News
Save the Date!  Next 2020 Fete Open Meeting, Thursday 12th March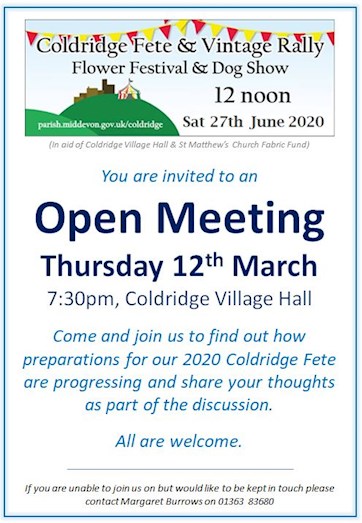 Posted 29th February 2020

_______________________________________
The March 2020 Coldridge Calendar is Now Available!
The latest edition of The Coldridge Calendar is now available to view or download here with an additional events supplement here.  Previous editions are also available to view here.
If you have something you'd like to share directly with the calendar's readership before the publication of the February edition then please contact John W Smith at biggles1047@gmail.com. Items for the inclusion in the April edition should be provided (in MS WORD format) by Sunday 22nd March 2020.
Posted 29th February 2020

_______________________________________
**UPDATE** DEFRA Guidance on Avian Influenza (Bird Flu)

SITUATION UPDATE - February 2020:  DEFRA confirmed an outbreak of the Low pathogenic avian influenza (H5N3) on 10 December 2019 on a commercial chicken farm in Mid-Suffolk.  As of January 8th, the restricted zone implemented was lifted. As of 28th February, no further UK based incidents have been reported.

--
In winter, there is an increased risk of avian flu in the UK from migrating wild birds (which might infect domestic poultry).  Be advised that outbreaks of highly pathogenic avian influenza (H5N8) have been found in poultry and wild birds in several countries across Europe. Defra and APHA are monitoring the situation to assess the risk to the UK poultry.
Continued vigilence by all poultry keepers is therefore recommended. If you keep poultry, even including game birds or as pet birds, you should refer to the DEFRA Avian Flu website for information, and follow recommendations on biosecurity best practice advice. This is especially relevant if your birds are located in a Higher Risk Area (HRA) - whether you manage a commercial flock or just a few birds in your backyard. 
Despite the current infection-free status Bird Flu remains a notifiable disease. Anyone who finds dead wild birds (e.g. wild waterfowl [swans, geese or ducks] or other dead wild birds, such as gulls or birds of prey) should report them to the Defra helpline on 03459 335577.
The latest information and guidance is maintained and available via pages on the DEFRA website which includes regularly updated data on reported wild bird deaths across English counties.
Updated 12th November; 13th December 2019; 4th January, 13th January, 12th & 28th February 2020

________________________________________
A Tribute to WILLIAM JOHN DAW: "COLDRIDGE BORN AND BRED"
A message on behalf of Coldridge Parish Council.....
"John was always a "larger than life" figure in our community. A Devon farmer, a noted and respected show steward and judge and a doyen of Young Farmers, of the NFU, of agricultural shows and of Crediton rugby; a Coldridge parish councillor for over 40 years and a District Councillor of considerable note, value and experience.  He was a man with whom to have a friendly yet highly informative discussion on any topic, from 'Butterfat to Brexit'. John was absolutely without equal.
Despite his wider interests and responsibilities, he still made plenty of time for the 'grass roots' issues in Coldridge.    At meetings, he would hold us all enthralled with his local and technical knowledge and with his political fluency. John's wry and instant sense of humour always tempered the serious nature of any meeting or discussion that he was involved in, at whatever level or on whatever subject. His (sometimes convoluted) arguments would often test the mettle of those of us with simpler or slower minds as we struggled to keep up! However, John was always very respectful of the opinions of others.
His recent views on Farming's active and long-term facility for reducing our carbon footprint was a case in point and an exciting revelation to many of us.  John was a real 'tour-de-force' in this and in so many aspects of his life. His untimely death leaves an enormous hole in our parish council and in our community. He was truly instrumental in keeping Coldridge 'on the map'.
The Council and community of Coldridge wish to extend our deepest sympathies to Marilyn, to Richard and to all their family".
--
Parish Council Meeting, Thursday 16th January, 7:30pm, Coldridge Village Hall

Be advised that this coming Thursday's Parish Council Meeting will open with 1 minute's silence in memory of John Daw, who served the community as a parish councillor for over 40 years right up until his sudden death last Thursday.
The Parish Council would be very grateful for a good public attendance in view of the poignant nature of the occasion.

Posted 14th January 2020

________________________________________
Volunteering Opportunities at

Home Start Exeter & East Devon
On behalf of our Parish Council....
Could you make a difference to families in our local community?  Home Start Exeter & East Devon are looking for volunteers to support their community initiatives. 
Further details in the 'poster' below.
Posted 10th January 2020

________________________________________
Minutes of latest 2020 Fete Open Meeting (Thursday 10th October 2019) are now available.

A hugh thank-you to all who attended our second 2020 Village Fete open meeting.  We had a very productive and supportive discussion and the Committee appreciate the many ideas raised on the night.  The Committee will be following up on these items as part of ongoing work and preparations for 2020. 
Minutes of the meeting are now approved and may be accessed to read/download here.
Our next Open Meeting is planned for Thursday March 12th 2020. We look forward to seeing you there.
Thanks again.
Posted 14th November 2019
________________________________________
TEST POST - 17 February 2020
________________________________________
PARISH NOTICE
Funding available to homeowners and landlords for home improvements
Mid Devon District Council would like to make residents aware of funding that is available to make improvements to homes across the district.  Homeowners and landlords can apply for a loan to make improvements to their homes. Essential home repairs such as a replacement boiler, new windows and doors, roof repairs (including thatch), plumbing, heating or electrical works and even structural repairs are included under the scheme.  Everyone receives the same interest rate, whether you borrow £1,000 or £15,000 and no matter what your circumstances or credit score. You can choose your own contractor and there are a variety of loan products available to suit individual needs*.
The scheme is delivered through Wessex Resolutions CIC, a not-for-profit lender that works in close partnership with the council. Established in 2003, Wessex Resolutions has helped many homeowners throughout the South West, lending almost £13.6 million.
A recent client said "I had no idea the scheme existed until I contacted the Council.  When my adviser visited me and explained everything perfectly it was a huge burden lifted from me – loan repayments that I can afford and the efficiency with which it was all arranged. I am truly grateful to all concerned."

For more information, call Wessex Resolutions on 01823 461099, or visit www.wessesxresolutions.org.uk or email enquiries@wrcic.org.uk.
(*subject to eligibility)
NOTE:  Loans have a fixed interest rate and typical 4.2% APR.  Missing payments could affect your credit rating and ability to obtain credit in the future.  Loans are typically protected by a Title Restriction and are subject to status.
Posted 3rd July 2019
_______________________________________
It's Official!
Thanks to everyone who attended the March Fete Open Meeting – as ever a great discussion and generation of ideas and suggestions to consider in 2020 planning.
Now the date is agreed, long range planning is underway in the background and further news will be shared in the coming months via the Coldridge Calendar & Coldridge Village Social Media (e.g. Parish Website 2020 Fete page & via our village Facebook Group 'What's on in Coldridge').
Minutes from 6th March Open Meeting are available to view here.
Posted 26th April 2019
_______________________________________
Now on Sale - 'THE COLDRIDGE MILLENNIUM CELEBRATION NIGHT' DVD (incl. the video 'COLDRIDGE: THE GEM OF MID DEVON')

At last, a great chance to buy your very own copy of these two historic, "Millennium" films on a single DVD!
These films were originally made by Coldridge people and they feature many familiar local 'faces and places' around the parish of Coldridge; you never know: YOU MIGHT BE ON IT! Buy a copy and check it out!
The original VHS recordings have lain neglected, but not completely forgotten, in a few cupboards around here, since 2000. Dusted off and freshly re-mastered by John Dike onto a single DVD for a recent Gardening Club meeting, it was suddenly realised how important these two films are as a piece of local, social history…and all very funny too!
So: If you still live in the parish and would like to catch up with scenes and friends past (or sadly passed) and present, or if you used to live here and would like to re-visit your old haunts from the comfort of your distant armchair, or even if you have recently moved here and would like to see the funnier side of some of your new neighbours and friends, then please look no further.

COPIES ARE JUST £5.00 each (+ £1.50 p&p per copy if outside the parish), available to buy and collect at various local functions from 15th March, or by calling John Smith (83436), Ivan Kriznik (884233) or John Dike (83329).  Alternatively you can email an order using this 'on-line' order form - click here. 
All profits will go to Coldridge Village Hall.
Thanks for your support. IvanK.
Posted 17th March 2019
_______________________________________
Welcome to the new 'Parish Borders & Beyond'  page
If you'd like to see what events are planned (or services available) in some of the surrounding villages, then please visit the new 'Parish Borders & Beyond' page by clicking this link.
Contact me via the Website Enquiries page if you have any further suggestions. Thanks in advance. IK

Posted 7th February 2019

_______________________________________
UPDATE - Second Parish Defibrillator Installed
In case you've not heard on the parish grapevine, thanks to the work of our Parish Council a second defibrillator is now available in the parish, located in the 'Old Phone Box' in East Leigh.
If you are interested in learning more about using a defibrillator along with some basic first aid guidance (including CPR) then there's an opportunity available on Thursday 3rd May at 7:30pm in the Village Hall when a representative of NHS South Western Ambulance Service will be running a free first aid update for the community. All are welcome.
Posted 29th April 2018
_______________________________________
Village Hall Bookings
A request please - could the lead organisers/chairpersons of parish organisations who use the Village Hall please contact Shirley King on 01363 83543 to provide details of planned dates and times when they you wish to use the Hall. As much notice as possible in advance is appreciated. Thank you!
Posted 24th December 2017

_______________________________________
Defibrillator Update
Our Defibrillator is now operational, and is located in the Village Hall kitchen courtyard (see below).
A training session was held in the Village Hall on April 27th at 7:00pm but you do not need to be trained or certified to use this style of defibrillator immediately - the device provides audible guidance through the steps required once activated.
Keyth Richardson has prepared a simple one-page guide for information . Please share this with anyone who might need to use the defibrillator.
Posted 7th April 2017; Updated 11 April 2017, 27th June 2017

________________________________________