Coldridge Fete, Vintage Rally and Flower Festival
Update about the postponed 2020 Coldridge Fete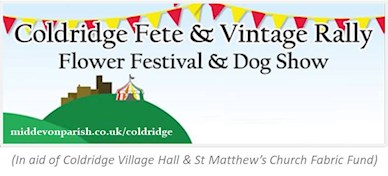 "The Fete Committee met recently via Zoom to discuss the possibility of going ahead with the postponed 2020 Coldridge Village Fete and Vintage Rally on 26th June 2021.
The Committee felt that there was too much uncertainty about whether all restrictions would be lifted by the end of June 2021, making it difficult to plan properly for a Fete this year. This was then reinforced by the announcement made by the Prime Minister on 22nd February 2021 about the lifting of lockdown rules in England. As a consequence, we have decided to cancel this year and look forward to putting all our energy into preparing for a fabulous Fete in 2022.
The date for the 2022 Coldridge Fete, Vintage Rally, Flower Festival and Dog Show is Saturday 2nd July 2022. Please keep the date free, more information will be available later in the year.
We are still hoping to put on a smaller Parish based event sometime this summer to mark the reopening of the Village Hall and giving us a chance to celebrate all our community-based activities. Further information will be available in due course.
Lisa Brock
Secretary, Coldridge Village Fete Committee"
Posted 28th March 2021

_______________________________________
Update about the 2021 Coldridge Fete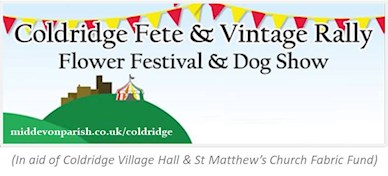 The Fete Committee met recently to discuss the possibility of going ahead with the postponed 2020 Coldridge Village Fete and Vintage Rally on 26th June 2021.
It was felt that because the situation with Covid 19 remains unclear it was best not to try to decide as yet, but to wait until February 2021 when the outlook for the pandemic may be clearer. We plan to make a definite decision whether to go ahead or cancel by the middle of March 2021 at the latest.
If we decide not to go ahead with the Fete until 2022, it may be possible to put on a smaller Parish based event on 26th June 2021 instead, which will give us the opportunity to get together as a Community, following whatever Covid 19 rules are in place at the time.
If anyone has any views about holding the Fete in either 2021 or 2022 and would like to share them, please speak to any member of the Committee:
Margaret Burrows
Marion Born
Lisa Brock
Andrew Green
Keyth Richardson
Ivan Kriznik
Sally Cooke
Or email: c.fete@ecomail.uk
Posted 16th November 2020
_______________________________________
2020 FETE NEWS
Important information concerning the 2020 Coldridge Fete, Vintage Rally, Flower Festival & Dog Show
Dear all,
Earlier today, in the light of current Coronavirus situation and guidance, the Coldridge Fete Committee took the decision to postpone the 2020 Fete.  A new date of Saturday 26th June 2021 has been agreed.
The Committee would like to thank all who put their names forward to volunteer in 2020 and also to those who joined us and participated in our Fete Open Meetings.
We hope we are able to count on your support once again in 2021 when this present emergency has passed.
Thank you all for your understanding.
Keep safe and stay well.
Ivan Kriznik (on behalf of the Coldridge Fete Committee)
18th March 2020
Posted 18th March 2020
_______________________________________
***CANCELLED***  Next 2020 Fete Open Meeting, Thursday 12th March
Update 11th March:  "Be advised we have now received a significant number of apologies for tomorrow night's Coldridge Fete Open meeting, and as such we feel it would be best to cancel the meeting.
We will put together a brief newsletter explaining how far we have got with preparing for this year's fete, and any areas we need your support with.
Thank you for your understanding".  Lisa Brock, Hon. Secretary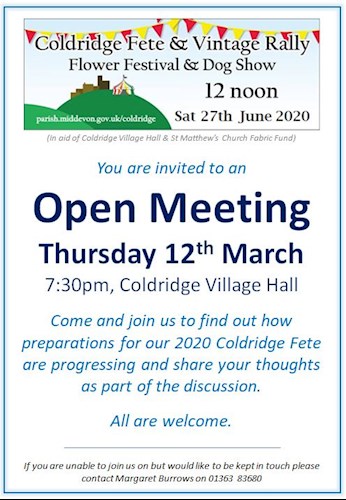 Minutes of the last meeting are available in the posting below.
We look forward to seeing as many of you as possible on the night.
Posted 28th February 2020; Updated 11th March 2020

  ---o0o---
2020 Coldridge Fete Flower Festival Launch Meeting
Saturday 29th February 2020, 10:30am in the Village Hall
The time has come to begin thinking about the Flower Festival taking place in Church as part of the Coldridge Fete Celebrations on Saturday 27 June 2020. We need to get together to choose a theme and start planning our creations. If you would like to take part in the 2020 festival then please come along to the Village Hall on Saturday 29 February at 10.30 am for a brief meeting to decide this year's theme and also choose your preferred spot in church.

If you are new to this and would like to take part, we would be so glad to see you and are happy to offer any helpful tips needed. We are all amateurs and the fun of the Flower Festival is definitely in the doing as well as the viewing!! We're hoping to get as many together as possible, however if you are interested but cannot make it you can register your interest by contacting 01363 83329.

Best wishes, Jo Dike and Ruth Kent
Posted 25th February 2020
  ---o0o---
Minutes of latest Open Meeting (Thursday 10th October 2019) are now available.

A hugh thank-you to all who attended our second 2020 Village Fete open meeting. We had a very productive and supportive discussion and the Committee appreciate the many ideas raised on the night. The Committee will be following up on these items as part of ongoing work and preparations for 2020.  Minutes of the meeting are now approved and may be accessed to read/download here.
Our next Open Meeting is planned for Thursday March 12th 2020; we look forward to seeing you there.
Thanks again.
Posted 14th November 2019
  ---o0o---
It's Official!
Thanks to everyone who attended the March Fete Open Meeting – as ever a great discussion and generation of ideas and suggestions to consider in 2020 planning.
Now the date is agreed, long range planning is underway in the background and further news will be shared in the coming months via the Coldridge Calendar & Coldridge Village Social Media (e.g. Parish Website 2020 Fete page & via our village Facebook Group 'What's on in Coldridge').
Posted 26th April 2019
_______________________________________
Coldridge Fete, Vintage Rally and Flower Festival